Friday, February 02, 2007
TeamXbox.com forum abuse (UPDATED)
As a quick recap, on January 24 I posted on the TeamXbox.com off-topic forum about my disappointment with a less-then responsible "news" story TeamXbox.com ran about the Pope's recent statements about video games. (Read my previous post here.)

It wasn't supposed to be a big deal, and I wasn't expecting it to be well received.

Even though I didn't do any follow on comments to my own post, and the post (listed at the bottom of this post) wasn't inflammatory, I got the following message, and I'm banned from TeamXbox.com:
"You have been banned for the following reason:
Snapple

Date the ban will be lifted: Never"
If you go to the post and comments, you can see that my original post was deleted by forum staff member "Dutch" (Xbox Gamertag Clarknova), and he banned me, arbitrarily:
"Adios"

"Aaah...I love it when Pikachu gets his detective skills on.

*bans snapple*

I'm hungry. What to eat?"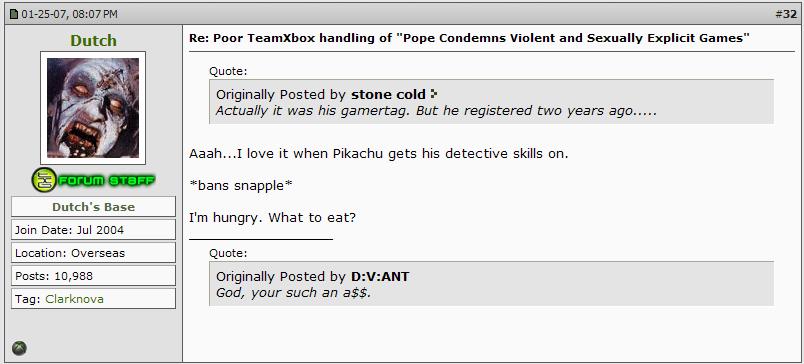 "It was just a lot of snapple babble."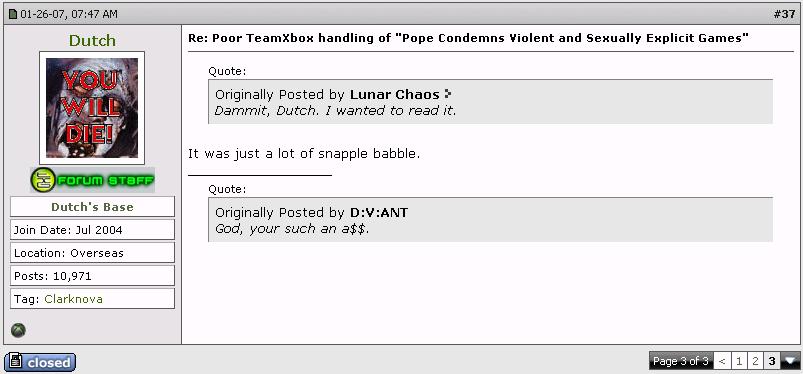 After 4 attempts each at TeamXbox and IGN entertainment, I sent a request to Clarknova today, asking if he had time to discuss why I was banned.

His text IM response:
"I honeslty can't remember what it was about. I also like to keep LIVE and
TXB seperate, so if you have a problem in the forums than PM me
there.Thanks."
I told him I preferred to keep the two separate, too, and if he could unban me, I'd gladly send him the same request via the forums.

Coincidently (I doubt it), shortly after contacting Dutch/Clarknova, I got a note from Teddy \"-1313-Evil_Homer\" Pierson from TeamXbox.com (after 7 days of being ignored), saying:
"Hi,
It says your account was successfully linked to a known perma
banned
user. There is nothing that can be done.
Thanks"
This is garbage. They're trying to make this go away. Dutch/Clarknova's posts captured above show this was an arbitrary ban, and now they're trying to justify it. I registered almost two years ago, and never posted until this one forum post -- and that was all reflected in my user history:




So, I'm hot about this, because I don't like stupid abuse of power. And I don't like liars. And I don't like being slandered.

All of which is probably outweighed by curiosity. Why the ban in the first place? If you read my post below, and the comments on TeamXbox, you'll probably agree those are the less tolerant, more abusive statements.

UPDATED: Clarknova

sent me an XBL text message this morning:



"Ah...now I remember. Snapple."
At least he's consistent.

Here's the original post again:

Poor TeamXbox handling of "Pope Condemns Violent and Sexually Explicit Games"

By: adamcrei
04:09 PM PST
Views: 20

Crud.

I'm bummed to feel like I have to post this.

I'm disappointed with the treatment of the "Pope Condemns Violent and Sexually Explicit Games" pseudo news story ("pseudo" as portrayed on TeamXbox.com and other sites, but I'm posting here).

The lack of respect for a world political/religious leader and the acerbic commentary aren't needed, and are pretty irresponsible:



"The head of the Catholic Church wants you to educate your child like we were in the 19th century.
.
.
.
"We guess the Pope won't like Marilyn Manson or Grindhouse, the Quentin Tarantino/Robert Rodrí­guez exploitation film.

"Will the Pope like Gears of War's Destroyed Beauty concept and the chainsaw executions? We don't think so."
Understand, I'm not Catholic. And I think this was probably one of those topical things that was fed as an agenda item and then included as part of the Pope's address, but the game culture and "press" handling of it -- including TeamXbox.com -- is pretty poor, and counter to painting a positive image of gaming and gamers.

Are all games bad? No. Are all games good? No. Are all violent games OK? No. Is there artistic merit in some pretty hardcore stuff? Sure. Is this hazy intersection of culture and morality easy, and is there a "clean win"? Heck, no.

We're at a tough place in gaming, and we're getting nailed constantly in the mainstream press and court system for being violently or sexually explicit. And now, our greatest advocate and president of the ESA, Doug Lowenstein, is stepping down.

Which means the rest of us have to step up.

Which means we can't willfully mishandle things like this, as small as they seem.

And the writer knows it. I noticed comments are turned off. There was either a flood of bad comments after the poor posting and unprofessional lead-in, or he turned off comments in advance, not wanting to face accountability or feedback on his lack of professionalism.

I'm all for autonomy for TeamXbox.com, but this is maybe where some IGN.com parental oversight could come in handy. Pull stunts like this a few more times, and I expect that oversight will be mandated.
Share:
|
|
| TinyUrl | Twitter
SOURCES: Gamespot.com, joystiq.com, kotaku.com, Xbox.com, IGN, GameInformer, Official XBox Magazine, CNN, gamesindustry.biz, and others.
0 Comments: