People, by nature, have some interesting things to say. Here are some of my things. Some about acting. All about living ...
Wednesday, September 28, 2005
I like the way a 4-year-old's mind works.

It was a 4-year-old's mind (driving her mouth) that informed me (giggling all the while) my dogs spend day and night in my house absolutely naked.

Brilliant.
Share:
|
|
| TinyUrl | Twitter
Contribute to | Review
Monday, September 26, 2005
Neil Gaiman is in Austin.

Tonight (7 p.m., Sept. 26), he'll be at Book People in Austin, for a reading and signing for his recent novel Anansi Boys.

Gaiman is one of my favorite writers -- from creating Sandman, to putting the poetry into the English script for Princess Mononoke, to the amazing novel American Gods, to a host of other works garnering a bunch of international recognition.

I won't be there -- I've got a family commitment tonight that (for me) takes precedence over seeing even one of my favorite authors.

Oh, and Gaiman's most recent film, MirrorMask (in collaboration with Jim Henson Company), opens in Austin this week ...

Share:
|
|
| TinyUrl | Twitter

Contribute to | Review
Friday, September 23, 2005
I saw Tim Burton's Corpse Bride today.

Tim Burton is an artist, and the stuff that he creates with Johnny Depp, Helena Bonham Carter, and Danny Elfman is a ton of fun. And I think co-director Mike Johnson may be a guy to watch.

The film's a weird (but working) mix of sentimentality and "ew". Also, I'm not going to tell you (because it will give away too much of the plot), but a gold star to you if you can figure out after you watch the film what classic (not Disney)children's story Corpse Bride retells.

And there's a nice, subtle, and infinitely deserved nod to Ray Harryhausen that's kind of fun, too.

Now, it's off to find the musical score ...

(You may notice the offical movie website is having problems; while it's down, check out the trailer at Apple.)

Share:
|
|
| TinyUrl | Twitter

Contribute to | Review
Wednesday, September 21, 2005
So much of what I experience every day is an opportunity to observe character in myself and other people.

Today is "Donut Day" at the toy job. Every Wednesday, boxes of donuts for the sugar-deprived are available in the break rooms. They're meant as a perk for full-time employees; kind of a soft marketing, "Hey, look how much we love you!" (unless you're diabetic, then the message might be, "Hey, we want you to die!").

Anyway, it's interesting to watch how people treat the "perk".

There are people who "can't possibly eat a whole donut", so they cut or break one in half (please don't do that; if you're going to touch food offered in a public way, take the whole thing).

Today, I noticed there were donuts that had a third of their circumference removed, which seems odd. Are people sampling large bites and leaving the rest (ew)? Are they building some sort of hybrid, calico donut for their morning snack? Do they suffer from multiple personality disorder?

And then there are some contingent staff (contractors, consultants, etc.), for whom the donuts aren't actually meant (they're an "employee perk"), who take a stack of 3 or 4 donuts back to their cubicle. Is this indicative of extreme selfishness? Social ineptness? Cultural differences? Borderline poverty and the need to eat whatever is available? An addiction to Dunkin Donuts (which, I'm sorry, is just a phenomenal disappointment in Austin)?

Me? I generally don't eat the donuts -- they mess with my resume weight.

Except for today. Today I was weak.

But I only took one (completely whole) donut.

Share:
|
|
| TinyUrl | Twitter

Contribute to | Review
Monday, September 19, 2005
I really enjoy good photography.

If you do too, check out Brent Schneeman's work.

I like his work because it's good, and because he captures a lot of stuff from my current and past stomping grounds. There are some great photos of city- and landscapes, floral, landmark, and "interesting perspectives". A bunch of his photos adorn the walls of my toy job's office complex.

One of my personal favorites is the pict of McDonald Pass, where US-12 passes through Montana at the Continental Divide, about 15 miles southwest of Helena. Ah, I miss snow and mountains ...

By the way, no, Brent is not a headshot photographer.

Check out Rhea Willis if you're looking for a great headshot artist.

Share:
|
|
| TinyUrl | Twitter

Contribute to | Review
Saturday, September 17, 2005
I have way too many unread comic books.
I don't need to buy fewer comic books; I need to spend more time reading them.

Share:
|
|
| TinyUrl | Twitter

Contribute to | Review
Friday, September 16, 2005
Had an audition this morning for Whataburger.

I did kind of a sucky job. Might have had something to do with all my tubs and toilets backing up as I'm leaving the house ($118 later, we're fine, thanks for asking). Maybe I was just off. Maybe a little of both.

I did get to audition for casting agency Toni Cobb-Brock and Company -- my first time with these folks.

Even better, I met a guy, Joe Perez, that was a personable prince of a guy. Outgoing, genuinely supportive, realistic, and having fun. I like meeting people like him. Makes up for prima donnas I sometimes run into at these kinds of things (including today -- c'mon, it's a Whataburger commercial!). Joe seems like a good guy, though.

Brent Smiga helmed the camera. I've met Brent at a couple of social events, so it made the audition at least comfortable.

And ran into Drew Whelpley again. I like that guy. Dude is funny...

Share:
|
|
| TinyUrl | Twitter

Contribute to | Review
Thursday, September 15, 2005
So, the President/CEO of company BigHugeCorp was in town today, and I had the opportunity to give him a tour of our offices, and ended up spending a lot of time with him.

Why? Because besides doing big-gun project and program management for software and services projects, I managed the physical remodel of our current office digs, so when dignitaries come into town, I'm usually tapped to give the tour.

Interesting experience. Our CEO is new to the company, and where the last guy was a "kick ass and take names" kind of guy (who probably never would have visited the Austin office, but did phenomenal things for getting BigHugeCorp into its current market domination), this guy is a bridge builder. He was stopping to talk to everyone we met -- in the halls, the breakroom, their offices ...

He was asking about their families, what their spouse did, how old their kids were, and so on.

And he remembered all that stuff hours later when he ran into them again. That's a gift. Stereotypically, CEOs are arrogant SOBs, and it's tough to get in their space at all. This guy doesn't seem to be that at all.

So it was cool to spend that much time with a guy in the kind of position to which I wouldn't normally have access, but I figured something out -- the tour guide gets ignored.

I'm supposed to be there, so I'm kind of movable scenery. Kind of a corporate extra, if you will (see, life imitates art).

So I had all this time to spend with CEO, and no real interaction.

Yeah, I know. Whoas me.

I did get to do something cool for someone else. But I'll let him tell you about it ...

Oh, and this guy is different than the president I mentioned going to dinner with recently. That guy (who I really respect and admire) is the president of the wholly owned subsidiary that I call home for ~70 hours a week. The guy from today is the big dog of the mega company that owns my subsidiary (which I'm unfortunately currently letting own me).

Share:
|
|
| TinyUrl | Twitter

Contribute to | Review
Wednesday, September 14, 2005
I don't need this kind of phone call ...


Share:
|
|
| TinyUrl | Twitter

Contribute to | Review
Monday, September 12, 2005
I don't look like my headshots. . .
So, I got a haircut today, and when my preferred stylist was finished, she said she was "bored" with my old haircut. That's ok, but I'm an actor -- I need to look like my headshots. . .

Share:
|
|
| TinyUrl | Twitter

Contribute to | Review
Sunday, September 11, 2005
Running is good thinking time.

At least for me.

I've mentioned it before, but rain and running do wonders for my creative juices.

Last run and this run, I've been inspired to work on NAwM (which is going to get changed to another camel-cased codename, but that won't be published; the new acronym figures too prominently in the story).

NAwM is one of my multi-Intellectual Property ("multi-IP") projects. I'm gearing the thing for comic book, video game, and movie and/or cartoon venues (it's hard to pull of the last two together; not that the others are going to be a cakewalk). Each of the mediums have particular challenges (besides the unique way you need to do the pitches for each), and I figured out how I want to work in the often-problemmatic video game training sequence in a way that's true to the story, will hopefully feel organic, and leaves some surprises for later.

I also figured out a few story elements that are pretty important to the "trueness" of the characters. I'm pretty stoked about those.

Oh, and I was kind of attacked by a dog again tonight. Unlike last time, this time was a little entertaining.

I was chased by a geriatric chihuahua for about a block and a half. He ran out of a party goer's back yard, all two pounds of his gray-flecked redness. I felt bad for him, so I slowed down so he could catch up, but by the time he reached me, he'd evidently forgotten why he'd been running, passed me, and stood confused in the street. I coaxed him over to lawn where he could sit and gag from the exertion of the chase.

His owners ran up and got him and took him back to the party.

Cute and sad at the same time.

Getting old seems to suck no matter the species ...

Share:
|
|
| TinyUrl | Twitter

Contribute to | Review
Thursday, September 08, 2005
More Comic Book Movies!
This week, Marvel Enterprises Inc. (which will be renaming itself to Marvel Entertainment Inc.), announced it's basically raised $525 million to do up to 10 films in the next 7 years, based on Marvel characters and franchises.

Possible films include the following:



Captain America (My personal favorite, the rumored first flick, and the best hero that has been disserviced as a victim of two horrible flicks, a non-differentiated 1930s serial, and multiple cartoon guest appearances, some bad (the "Operation Rebirth-ish" appearance in the 1990s Spider-Man), some good (X-Men: Evolution; Spider-Man & His Amazing Friends).)

The Avengers (Which is not X-Men, and is not Justice League, and has a huge stable of front-running characters from which to choose.)

Dr. Strange (Think Constantine, but more epic and less creepy ... depending on the story arc; they'd do better with Spider-Man & his Amazing Friends Dr. Strange than 1990s Spider-Man Dr. Strange.)

Hawkeye -- He's a flamboyant character that's the quintessential boy scout; think an amalgamated clone made from equal parts Colin Farrell and John Tesh, after you've worked out the lumps ... think about it ... Now, breathe ...)

Nick Fury (No, the David Hasselhoff made-for-TV movie does not count, and let's never speak of it again.)

Black Panther (Wesley Snipes has supposedly been on again off again for this role, though after seeing Crash, I'd honestly like to see Terrence Howard get a shot.)

Ant-Man (Here's a chance for some cool CGI and live-action ant wrangling.)

Cloak & Dagger (Depending on their take, this could be successful as teenie bopper or dark goth; Clueless or Underworld.)

Shang-Chi (Martial arts action, and Marvel'd do well to think about having this driven by Far East expertise.)

Power Pack (I haven't read the resurrected franchise, but was a fan of the original; this is a great marketing choice by Marvel to broaden the demographic.)


And all of this adds to the recent Fantastic Four and next year's X-Men 3, Ghost Rider and 2007's Spider-Man 3 and a possible Hulk sequel.

Even better? By relaunching their indie slate in a more proven market climate, Marvel is in a much better place to leverage cross-character or cross-franchise appearances than is DC (who has Batman with Warner Bros. and Superman with Universal, which will likely prevent a "World's Finest" kind of scenario.

Imagine -- In the comic book world, Captain America leads the Avengers, and Hawkeye and Ant-Man (in all his incarnations) are long-term members of the team. Plus, if Marvel goes with an Ultimates version of the Avengers, Nick Fury heads up the team (and, in the comic, he's drawn identically to Samuel L. Jackson, which has long led to speculation that the franchise was relaunched with film in mind).

Even in Power Pack, little Franklin Reed Richards is the kiddo of the Fantastic Four's Reed Richards (Mr. Fantastic) and Sue Storm Richards (The Invisible Girl/Woman).

Like you couldn't tell, I'm a long-time fan of comic books, and their overlap with movies and video games. if you are, too, you should check out Superhero Hype and my own "Comic Book Video Games" blog entry.

Labels: acting, comic books

Share:
|
|
| TinyUrl | Twitter

Contribute to | Review
Can't stop thinking about Crash...

Share:
|
|
| TinyUrl | Twitter

Contribute to | Review
I'm beyond behind at work, and it's basically been one long day for the last week and a half.

So, after 7:30 p.m. rolled around, I decided a can't really be more behind, met an acting buddy of mine, we went to dinner (wings again; it's all we do), and then finally got to see Crash.

One of the hardest, more important films I've seen in a while. How amazing is Don Cheadle? Who knew his strength was drama (other than him)?

And Terrence Howard -- he was a pleasant surprise for me. Probably need to see Hustle & Flow.

Powerful, powerful film. I really recommend it.

Now it's back to work.

Crap. Turns out I can really be more behind ...

Share:
|
|
| TinyUrl | Twitter

Contribute to | Review
Wednesday, September 07, 2005
I'm in the penalty box.


I'm in the penalty box at work.

Or so a co-worker told me. It's a hockey metaphor, where guys who are temporarily rule-challenged get the adult version of a "time out" for 2 minutes, 4 minutes, or the rest of the game, depending on the infraction.

It's a metaphor, so like all metaphors, it breaks down at some point.

Hockey players generally get stuck in the penalty box for "unsporting behavior or intentional, dangerous disregard of the rules". I'm "in the box" not for breaking the rules, but for blowing the whistle when it looked like the rules weren't being followed.

Also, in the sport, while a player is in the penalty box, the player is out of the game, and the team can't sub a replacement. In my situation, it's basically been one long day for the last week and a half, so I don't even get the rest period generally afforded the penalty box.

Plus, I suspect my penalty box has a trap door that leads to an incinerator.

Pretty crappy metaphor.

And you can't tell from the picture, but I actually have monstrously large feet.

Share:
|
|
| TinyUrl | Twitter

Contribute to | Review
Monday, September 05, 2005
4,000+ visitors to AdamCreighton.com in August!

There's a homily that goes something along the lines of "90% of acting is business; the rest is craft."

My Website is a key part of my business and marketing utility belt. I check traffic stats on a weekly basis to find out where people are going, how often my resume is viewed, how many clips are being downloaded, and so on.

I can see from where visitors are coming (from which domain), and I've used that to create opportunities for me. For example, after sending a press packet to a major game studio, I saw from my Web logs that someone from the company had gone through my Website, and listened to all of my audio clips. So I followed up and said, "Hey, I sent you a press packet, and from looking at my Web traffic logs, I know someone from your company was on my site!"

His response?

"Ahh, you found me! Caught me sneaking around your site did you? Damn that hi-falootin technology!"

Followed by a desire to bring me in on the studio's upcoming project. Granted, this may or may not happen, but I was able to create an opportunity that wasn't there before.

I can also see where people are spending their time, and what's keeping them glued to my content ("gauging the stickiness"), and change my site based on that.

A few notable examples:



Notice that www.AdamCreighton.com now routes to this acting blog, rather than the "Welcome" page? That's because people who get to my blogs stay on blogs, browsing through current and past postings.

I recently repackaged my blogs from the serviceable blogger.com templates, into the rest of my website, which hugely upped traffic to the rest of my site.

I recently broke out "Demos" and "Clips" into "Voice" and "Video", which has driven viewing of the video clips way up.


I also use the stats to figure out what's not working for me. As example, there are a couple of online services I've paid into for this year that have sent zero people to my website (and I haven't gotten any offline bookings). So, why should pay into these next year?

A lot of work, yes, but since the relaunch of my site in January (after signing with a new agent), I've seen a 10-fold increase in unique visitors each month to my site, and a trendline increase of around 5-fold in total hits.

I've got an acting buddy who responded thusly when I mentioned my recent Web traffic:

"4000 indeed...4000 people read your mom."

(Yeah, he's a little weak on the smack talk area; evidently, the extent of his competitive sporting experience growing up was "I played karate".)

Anyway, for his education (and your interest), here are the Year-to-Date numbers for AdamCreighton.com Unique Visitors and Total Hits: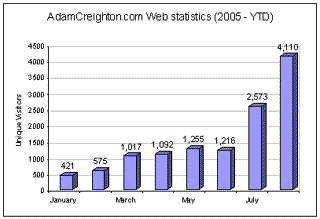 Ninety-percent business; Ten-precent craft.

One hundred percent relationships, so don't let stuff like this get in the way of that.

Share:
|
|
| TinyUrl | Twitter

Contribute to | Review
Sunday, September 04, 2005
I've added a new video clip from short film Suicide: A Love Story to the "Video" section of my website.

I shot Suicide last year -- a great experience with filmmaker Steve Muccini (efficient, flexible director).

Check it out -- and let me know what you think!

Share:
|
|
| TinyUrl | Twitter

Contribute to | Review
My Xbox just caught on fire!
Seriously. Just turned it on, and got billowing black smoke and that acrid smell that comes from an electrical fire.

And it wouldn't shut off -- I had to yank the cord and run outside with the smoking, 8-pound brick. Everyone (other than the Xbox) is OK. Man, my 'box dies 2 months before the Xbox 360 comes out . . . What's a gamer to do?

Catch the play-by-play over on my video game blog.

Share:
|
|
| TinyUrl | Twitter

Contribute to | Review
Friday, September 02, 2005
Korperashuns still Suk ...


Share:
|
|
| TinyUrl | Twitter

Contribute to | Review