People, by nature, have some interesting things to say. Here are some of my things. Some about acting. All about living ...
Thursday, March 29, 2007
It's "Good tough" ...
Tonight was one of those "good tough" nights in Meisner.

Small group, tight sessions, and for me, some encouragement in important places.

I haven't arrived yet (never going to happen), but one of my big fear / growth areas as a person (so, as an actor, too) is emotional authenticity.

And lately, I'm able to build scenarios and buy into them and get places emotionally in a matter of minutes. I honestly never thought I would live here. Ever.

This isn't something to crow about, because it's brutal and costly. But I feel it's necessary as an actor, and as a human being.

Tonight ended with me crying and gagging from emotion.

But, like I said, I haven't arrived yet. So, I pretty much literally ran from the conflict, because I was so overwhelmed with my emotion that I made it all about me, and didn't regard my partner.

But that's another area of work identified, understood, and tagged to deal with.

So it was a good night.

And I'm so freaking proud of class campadre Megan. Chica seriously rocks ...

Labels: acting, acting process, meisner, training
Share:
|
|
| TinyUrl | Twitter
Contribute to | Review
Wednesday, March 28, 2007
Audio vegetable abuse ...
OK, this is tertiarily related to voice acting.

But if you're like me and enjoy all parts of the video game development, marketing, and distribution process (including localization; seriously fascinating stuff), here's a fun diversion.

The development team at Digital Extremes, who are behind a now-gen game with a lot of buzz (Dark Sector), have a blog.

There recent blog posting is entitled "Vegetable Abuse", and is a written and video summary of how the sound crew captured "death and dismemberment" style sounds.

Pretty fun stuff, and an interesting mini insight into getting "sounds from the field" (*groan*).

Labels: video games

Share:
|
|
| TinyUrl | Twitter

Contribute to | Review
Sunday, March 25, 2007
Cap 10k today ...
I off to run the Capitol 10,000 race today.

Though with 30 thousand participants, it'll be more like a shuffle than a race.

See if you can find me -- it'll be like Where's Waldo?, but less colorful.

Labels: events

Share:
|
|
| TinyUrl | Twitter

Contribute to | Review
Friday, March 23, 2007
Digg me, find me del.icio.us ...
I've had requests to make it easier for folks to add me to their Digg, del.icio.us, and Reddit favorites, so I've added links for these three social bookmarking / social content sites to all of my templates.

These are social bookmarking sites, so now you can easily add (or bury) particular posts you like (or don't), using links at the bottom of the respective posts.

For those not familiar with these sites, here's a brief description of each (from the horses' mouths).

Digg:
"Digg is a user driven social content website. Ok, so what the heck does that mean? Well, everything on Digg is submitted by our community (that would be you). After you submit content, other people read your submission and Digg what they like best. If your story rocks and receives enough Diggs, it is promoted to the front page for the millions of visitors to see.

What can you do as a Digg user? Lots. Every person can digg (help promote), bury (help remove spam), and comment on stories... you can even Digg and bury comments you like or dislike. Digg also allows you to track your friends' activity throughout the site — want to share a video or news story with a friend? Digg it!"
del.icio.us:
"del.icio.us is a social bookmarking website -- the primary use of del.icio.us is to store your bookmarks online, which allows you to access the same bookmarks from any computer and add bookmarks from anywhere, too. On del.icio.us, you can use tags to organize and remember your bookmarks, which is a much more flexible system than folders.

You can also use del.icio.us to see the interesting links that your friends and other people bookmark, and share links with them in return. You can even browse and search del.icio.us to discover the cool and useful bookmarks that everyone else has saved -- which is made easy with tags."
Reddit:
"A source for what's new and popular on the web -- personalized for you. We want to democratize the traditional model by giving editorial control to the people who use the site, not those who run it. Your votes train a filter, so let reddit know what you liked and disliked, because you'll begin to be recommended links filtered to your tastes. All of the content on reddit is from users who are rewarded for good submissions (and punished for bad ones) by their peers; you decide what appears on your front page and which submissions rise to fame or fall into obscurity."
Labels: site updates, tools

Share:
|
|
| TinyUrl | Twitter

Contribute to | Review
Thursday, March 22, 2007
Thoughts on Meisner thoughts ...
I have lot of interest in and heavy traffic through my blogs.

A lot of that traffic is centered on my various thoughts about my personal acting process. I get encouraging comments and feedback from folks who sympathize, empathize, want to dialog, or criticize the stuff I post. I have regular readers who read my stuff just to see what I'm struggling with, on what I'm moving forward, and what I'm experiencing on the personal acting process side.

I also have folks interested in the posts related specifically to my current, intense Meisner training. Which made me look at recent posts I've been doing on the subject.

I imagine they make no sense.

There are folks are who are long-time Meisner graduates who know what I'm talking about in these posts. There are folks currently doing Meisner training and are more advanced than me, who understand what I'm talking about. There are my current classmates, who are experiencing it with me (so, obviously, they get it).

And the stuff I mention is understandable to them, because Meisner -- and I suspect each coach's slight "flavor" of Meisner -- has a language all its own. This is not workout training. This is acting process training.

Folks not familiar with the Meisner process probably don't get a lot of what I'm talking about, or the same depth of it that folks with a Meisner background get.

More importantly, no one should look at my blog posts about Meisner and think, "Oh, so that's Meisner".

Meisner isn't something to be read about, especially not in a drive-by Web log fashion. It's something in which to be immersed and experienced whole heartedly in a committed fashion, with people who are also immersed and committed whole heartedly. And all this should be under the tutelage of a knowledgeable, experienced coach.

I may end up being more vague about some of the specifics of the training I'm doing. I figure it won't make sense to non-Meisner folks, anyway, and I don't want to "talk out of school" about the stuff my coach is taking great pains to impress upon us. Plus, there's a session he's currently teaching that's more junior than my group, and I don't want to spoil the stages for them before he introduces them -- and thereby undermine my coach -- by sharing specifics.

I figure folks will still get me talking about what I'm going through, where I'm stuck, and where I'm growing. Or not.

Besides, those Austin, LA, and NY folks who have Meisner experience and are keeping tabs on my progress talk to me, anyway. So they'll know.

This Meisner stuff is tough, important, growing stuff. You want to experience it? Commit to it, like we did...

Labels: acting, acting process, meisner, training

Share:
|
|
| TinyUrl | Twitter

Contribute to | Review
"It's time User Generated Content grew up ..."
I read an the article about 'A Swarm of Angels' crowdsourcing film production, and am hugely encouraged that there are groups pushing new business models in the film making world.

First, unequivocally, the rules and technologies for media production, marketing, distribution, and profit have changed. And (this may sound elitist, but I really need to make a point) I would argue 95% of the world doesn't see that. Things like Web 2.0 are leaving people who don't adapt in the dirt.

I'm an actor. But I'm also a technologist. And a bit of a futurist. And I've been nearly crawling out of skin at the clusterf**** of missed opportunities between technology and media content (which is much bigger that just eye-candy special effects).

Seriously. I've got people that don't even understand what these ancient things called blogs are. And I've even had Biz folks suggest my Website and blogging's "not that critical a part of your personal marketing campaign". I find it very hard to regard those folks. But I do pay attention to (and get a hold of) those production, marketing, advertising and other houses that -- never talking to me -- use my Website and its posts to further their marketing at a grassroots and community level, build buzz, teach classes (at Harvard, no less), and so on. Those are folks who get it.

And while there are these ridiculous baby step battles being fought on the fair use and DRM put-down side of the house, and tepid Web site offerings for film and media distribution (YouTube? Please. That's Sooo 2005), it looks like 'A Swarm of Angels' is doing the appropriate techno / marketing / distribution / fair use leapfrog.

Back to 'A Swarm of Angels', which is the brainchild of Matt Hanson, a UK filmmaker / producer / author. The goal is "to 'crowdsource' the funding, production, and distribution of a $1.9+ million dollar movie" -- putting the principles of open source software to film making.

"The idea is we become a self-sustaining entertainment community with an unprecedented amount of freedom over the films we create."
And there are some other big guns advising: Cory Doctorow (culture advocate and technology futurist), Warren Ellis (writer of graphic novels, short fiction, novels, television, animation, screenwriting, journalism), and Tommy Pallotta (film producer behind A Scanner Darkly, etc.).

To play, you pay a ~$50 non-expiring membership fee (it's in UK pounds-sterling, but PayPal will do the conversion for you), and you then get to participate in the creation and other decisions for the project, created under the auspices of Creative Commons licensing.

At a high level, here's what you get for your money:

"In return for their investment, 'angels' get to have a say on all aspects of the creative process, access exclusive content, and in some cases even become part of the film crew. As the project progresses, the aim is to recruit 50,000 'angels' (hence the million-plus dollar budget). The finished movie will be released under a Creative Commons license so that it can be shared and remixed freely."
But you get other benefits. They'll be building the film crew as much as possible from the membership. You get to influence and greenlight a film. You get media and downloads along the project's way.

And it's totally screwing with the current distribution / revenue model, eschewing it for the chance of a greater creative payoff:

"Our project is about a Return on Entertainment, rather than a Return on Investment. If it's about a capital return then that interferes with creative decisions, and the fact we want to give it away, and let people remix it. My emphasis is on creating a model for cinema that can produce more distinctive creative work rather than being boxed into commercial genres in order that it make its money back."
It's not that it won't make money, per se, but that's not its restrictive goal.

And Hanson's parting shot:
"Here's my big pitch… If you're sick of being sold 'product' by mainstream media, and are serious about the power of the web and social networks to create cultural change then you need to become a member of the project. A Swarm of Angels is a revolutionary process to create the future of film. Join, and you can make it happen."
If you do want to join -- do it quickly. They're getting to cap the first 1,000 attendees with special privileges, and they're near that cut-off mark.

And, yeah, I'm a member.

Links:


Labels: acting, biz, business, tools

Share:
|
|
| TinyUrl | Twitter

Contribute to | Review
Feeling stuck when you're not ...
Each of us in my Meisner class are light years ahead of where we were.

Each of us feel like we're not moving forward.

Lynn, LeVan, Nikki, Mark, Megan, Marcos, Erin, Risa -- you are all amazing and inspiring and beautiful.

And we're all just fine ...

Labels: acting, acting process, meisner, other actors, training

Share:
|
|
| TinyUrl | Twitter

Contribute to | Review
Wednesday, March 21, 2007
Industrial audition today ...
I had just got back from a good audition for an industrial today.

Industrials can be tough, because they're often dry, usually due to their instructional nature.

The sides I had for today's audition were fun, and riffed on a TV franchise I really enjoy. Kudos to the producers for having fun with the content.

It was a full, dense page of text, but I still made sure to do my whole acting process -- write it out, make choices, memorize, and so on -- and I'd like to think the memorization part put be ahead of the game (and I only muffed up one word) ...

I ran into acting friend Doran Ingram at the audition. If not me for this gig, I would be totally happy if he got it.

And though I am arguably a little out of type for the written description of the project's role, the casting director bringing me in is a nod to her belief in my abilities, as well as her tuned sense of what can work for a project. Which I find very encouraging.

Every audition is a gift ...

Share:
|
|
| TinyUrl | Twitter

Contribute to | Review
Saturday, March 17, 2007
Happy St. Patrick's Day!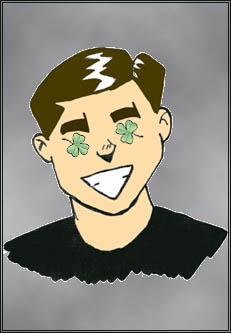 Top o' the morning to you!

I'm celebrating the Irish side of my heritage all weekend.

Go out, enjoy, and if you're out and about at the various street parties in Austin today, you may see me.

I'll be the one wearing green.

Share:
|
|
| TinyUrl | Twitter

Contribute to | Review
Friday, March 16, 2007
Video game voice over callback ...
This afternoon I had my callback for the video game voice audition I did Monday.

It was easy (if way too quick), and I got to use a new mic with which I'm not familiar. If I get this gig, I'm excited about tweaking my mic technique to get the most out of it.

This was also my first visit to this company's new, nice digs. Good for them.

Here's hoping ...

Labels: acting, callbacks, video games, voice acting

Share:
|
|
| TinyUrl | Twitter

Contribute to | Review
Meisner learnings ...
Been a good couple of weeks on the Meisner training front.

By "good", I mean "growing"; not "pleasant".

First, through practices I learned the importance of being comprehensive in the reasons for my "activities" and their urgency. One week, I was doing storyboarding, and had a great moment of panic where I had to throw my partner out of my life. After I threw her out, I realized I was going to fail my task. But the consequences lost weight as I started intellectualizing why I was writing out dialog (as opposed to cutting and pasting it from the scripts before I printed the blank storyboard panels). There are scenarios where that would have worked, but I hadn't prepped them before doing the exercise, and it killed the scene.

Secondly, when I come to the door, I'm supposed to be coming from something huge, and coming to that person for a reason. So I've been working hard on finding a simple hook at that moment when I find out who my partner is -- and I'm getting decently good at it, which has improved my door work.

Along those same lines, I was struck with an in-practice conversation about what's "easier" -- door or activity. I came to the conclusion if either is easier than the other, it's because I'm not putting the appropriate thought, work, and preparation into it.

So, in class this week where I was doing door work, I went deeper.

She left me.

Which was brutally hard and emotionally debilitating and stirred up new things for me.

It also got me lost, because I wasn't focusing on my partner -- loving her and believing everything she said.

So, cool, I've experienced another area (about which I already knew intellectually) in which I need work -- staying connected and doing something while the emotion lives in me.

Good, growing couple of weeks.

Labels: acting, acting process, meisner, training

Share:
|
|
| TinyUrl | Twitter

Contribute to | Review
Monday, March 12, 2007
Video game voice over audition ...
I just had a voice audition for a big franchise of which I'm a fan, from a development / publishing company of which I'm also a big fan.

And I got a call back.

(Which, oddly, in the years I've been doing this, is a first for me. I usually book off the audition itself, my demos, or with repeat business. So another first on the acting front is wicked cool.)

I'm a big video game fan, and those and cartoons are what got me into voice acting.

And though I consider any audition a gift, on so many levels this particular audition was amazing on the giftage front.

And I extended my acting process in new ways, too.

I got the audition notice Friday. I was supposed to prep for the main "good guy" and the main "bad guy" -- meaty parts both. (And I need to be vague, because I don't want to give stuff away.)

These are the most amazing character breakdowns I have ever received. We're talking 4 sides a piece, character synopsis, renders or reference picture, reference TV / movie stars, description of the relationships between the characters, and additional info (for one of them, there was a freaking Myers-Briggs-like assessment!).

I wonder if some actors would be miffed at this much info. But for me, it gave me a phenomenal base on which to build. I didn't have to do basic wood shedding -- I could just go to the next level.

I did my normal thing and wrote out all of my lines for both roles, and memorized them independent of any acting choices.

Then I made the additional acting choices -- What happened just before, what're the details of my characters' relationships with each other, what was different about how they both got to the same point, and so on.

And then I did some things I haven't done before with my acting.

In another life they'd be ...

I got to thinking about how to some degree we are who are because of a combination of nature, nurture, and our place in time. So, for these two guys, who or what would they be if they were born in another time?

For the good guy, I saw him as a Spartan warrior (I just saw 300; twice). The bad guy would be Alexander the Great (not that Alex was bad, necessarily, but it just mapped well).

Work from what you know ...

What I know -- inside and out -- is comic books. So, I wanted to look at what character or characters were most like these guys. This really gave me a hook for each of them.

Good guy -- Captain America + Punisher + Hawkeye

Bad guy -- Winter Soldier + Spider-Man

What music did they listen to ...

I've done this before, but this time, driving down to the audition for an hour, already knowing my lines, I listened to music I thought each of them would listen to as I internally woodshedded these two guys. Turns out The Punisher Soundtrack had mixes of tracks I could apply to each of them (on the same disc).

Daddy ...

This one was new, and worked powerfully and well. I thought about what each of their dad relationships were, and worked through those as the character.

Good guy -- "My dad loved me, and we were buddies. We played football, wrestled, ran, and always tested our bodies against each other. He never abused me, but never coddled me. He'd knock me down in football, and (when I was old enough) I knocked him down."

Bad guy -- "I was the fifth of five kids, and the first boy. My dad so wanted a boy, and I was so small and sickly. A lot of parents us "C'Mon, Guys!" generically with boys and girls; my dad used, "C'Mon, Girls!". He never talked to me about his disappointment. He never talked to me about his disappointment."

The audition ...

I ended up just auditioning for the role of the bad guy. Which is fine. I'm still ready for both.

And this was also my first audition for casting director Amy Grappell, and she and Annie were very organized and very professional, making for a great, non-stress audition. She also gave me great, specific, usable feedback. Also a gift.

Freaking great audition ...

Labels: acting, acting process, auditions, video games, voice acting

Share:
|
|
| TinyUrl | Twitter

Contribute to | Review
Meisner and stop-motion animation ...

This is a stop-motion animation I created as an "activity" for my Meisner acting process training (rendered after the class).

Basically, at this stage of my training in Meisner, we're doing exercises where one person is at the "door", and one person is doing an "activity". Both people have goals. Both people are being blocked. Both people are supposed to honor the rule of improve, "Love your partner and believe everything they say."

The "activity" should be physically (or tactile-y) demandingand require extreme focus. I have a time limit. I have an extreme urgency to complete the task. The person at the door is interrupting me, potentially causing me to fail. I can't ignore them.

Stop-motion animation totally fit the bill.

That night's class wasn't that good (I wasn't bought into my urgency), but I learned important, applicable stuff about myself and my this process. So that was good.

Obviously, this is not normally the way to do stop-motion animation, and it's not the way I normally do it (no light box or tripod, the room wasn't light controlled, I didn't have my storyboards with me, I wasn't able to totally focus on the effort, etc.).

But because it required focus to do it right, it made for a good Meisner activity (though ended up with a horribly result).

Rather than just let the effort die, I compiled the thing real quick and posted in on YouTube for folks' viewing pleasure. And republished it here.

Enjoy(ish).

The Tools:

Labels: acting, acting process, animation, meisner, toys, training

Share:
|
|
| TinyUrl | Twitter

Contribute to | Review
SXSW 2007: "Pineapple" party ...
I went to the Pineapple party Sunday night.

I suspect the weather kept attendance way down, but it was still a good party.

The music was wicked good, I hung out with great people I know, like "Mr. Whataburger" Adam, and a handful of folks from my Meisner class (Nikki, Risa, and Marcus), touched base with others I hadn't seen for a while (Deana, Van, etc.) and met some new folks (Richard, we will meet again; we will meet again).

Good night, if a bit low-key.

Labels: acting, biz, events, inspiration, other actors

Share:
|
|
| TinyUrl | Twitter

Contribute to | Review
Saturday, March 10, 2007
2D Stop-motion animation ...


I found another avenue to combine my voice acting with my love for comic books.

Over the holidays, I picked up a stop-motion animation "toy" at Toys R Us. It was Marvel branded, and included put-together cutouts of Spider-Man, The Incredible Hulk, Dr. Doom, and the Green Goblin.

This week I animated a quick scene (no storyboarding this round), recorded some dialog for the four characters, put it all together and uploaded it to YouTube.

Why YouTube, rather than encoding the video myself and hosting it on my site? Since Marvel owns the licenses for the characters, I'm not worried about losing creative control of this particular clip, due to YouTube's user agreement.

Besides, one of the goals is for me to try out YouTube, have fun with it, and see if it's a decent marketing tool to drive additional like-minded folks to my site. And I may be a bit of an eyeball whore. But only when I get paid for it.

My weekend review of my weekly Web traffic stats shows a noticeable upswing for the days following the clip posting. Oddly, referrals don't show anyone coming from YouTube.com to adamcreighton.com; I say "oddly" because I did this twice at set times to make sure it was working. Ah well.

The only change to my voice is a slight mechanization filter to Doctor Doom -- no change in pitch / octave /etc. -- that's all me. The sound effects are a bit tinny, which is probably due to them being sampled at a different rate than the other video audio pieces that went into the final product. Lesson for next time.

The Tools:

Labels: acting, acting process, animation, comic books, voice acting

Share:
|
|
| TinyUrl | Twitter

Contribute to | Review
Friday, March 09, 2007
SXSW 2007: "Pineapple" party Sunday night ...

Want to start your south by southwest out right?

Sunday night (March 11, 2007), go to a party celebrating the independent film Pineapple.

The party kicks off after 10 pm at Molotov Lounge (at 719 W. 6th St. in Austin, and a fun and happening joint).

The cast will be there, and various soundtrack bands from Pineapple will play throughout the night, and should include Smackola of dIRTy WoRMz (who's also a key character in the film), Vehicular, and Alpha Rev / Casey McPherson.

This is going to be a heck of a party, during which the main area of Molotov is open to the public.

I should be there, though I have a few other SXSW events I need to hit that same night, so I'll hopefully see you around.

You can also check out my thoughts on Pineapple here.

Share:
|
|
| TinyUrl | Twitter

Contribute to | Review
Wednesday, March 07, 2007
There are no breakthroughs ....
... Only hard, painful, important work.

"Having a breakthrough" is such an acting cliché. I've never torn through the acting equivalent of a tissue paper banner, to run triumphantly onto the performance football field to ... ah ...

Look, metaphors aren't really my thing.

I worked twice to tonight in class. And it was brutal. And it was good tough tonight.

First up at the door, I was rusty, but learned something about myself. I kept telling my partner, Mark, what he was doing wasn't important. My coach took me to task for it, "Because you know that's not true."

But it was true.

And my coach isn't wrong.

So ...

But what I realized is it was true. What Mark was doing wasn't important -- to me. I was using the statement, "What you're doing isn't important" as a way to explain myself -- not to make reference to what Mark was doing.

Loving my partner and believing everything he said was not what I was doing. At that moment.

I got there, and I got furious, and sick. When I finished that roller coaster ride of coming to the door with something huge and important and positive, and ending in a screaming match and feeling terrible because I cost him his goal ... I literally felt the bile in my throat. There were a few moments where I didn't get my notes because I thought I was going to have to bail and puke.

And then, later, I went again. 'Cause I'm crazy like that.

And I so want to work all the time.

And be a better person.

When doing door and activity in Meisner, nine times out of ten (if done right), there's a win, but not a clean win. I kick someone out of my life forever. Or I fail my task.

I learned tonight, doing it right, that there are worse things. There is failing my task, and all of the consequences wrapped in that, and having someone walk out of my life forever. I lost twice, and didn't choose either.

My coach likened it to "Kobayashi Maru" -- the training exercise from the Star Trek mythos that is an unbeatable tactical simulation. You can't win.

It's about what you do with failing.

And seriously don't dismiss the analogy because it's rooted in pointy eared fanboy trope. It's a brilliant, important metaphor that some people get, and to which others haven't given enough thought.

My stomach is so freaking knotted up right now.

Labels: acting, acting process, meisner, training

Share:
|
|
| TinyUrl | Twitter

Contribute to | Review
Dialog that made me laugh ...
Here are a couple of snippets that hit me as funny today.

From Frank O'Connor's weekly update on the Halo 3 video game:
Elites look superbadass. Real word. Look it up. If you can't find it, maybe your dictionary is too liberal.
A script snippet from a sketch book I picked up from Brock Rizy, for his and Reagan Blank's upcoming ¡BIKE_GANG! comic book / mixed media movie:
JOCELYN BLAYLOCK
Clancy, if you could have sex with any celebrity, living or dead, which would it be?

CLANCY
Dead.
Heh.

Labels: animation, comic books, inspiration, video games

Share:
|
|
| TinyUrl | Twitter

Contribute to | Review
Monday, March 05, 2007
The stages of grief ...
denial
anger
bargaining
depression
acceptance
Hey, where's "confusion"?

Nothing major going on here, Kids. Just a few relationship deaths hitting at the same time. And relationships are really important to me.

As you were ...

UPDATED: Looks like things are mostly all better, now, which I didn't expect. Coolidge ...

Labels: ramblings

Share:
|
|
| TinyUrl | Twitter

Contribute to | Review
Sunday, March 04, 2007
The Animation Show 3 ...
I caught The Animation Show 3 tonight at the Paramount, since I got couple of ticket vouchers during yesterday's animation panel at STAPLE!.

There's some absolutely amazing stuff here, showcasing everything from 2D to stop-motion to CGI -- and mixtures of everything (including some live-action stuff).

There was so much good stuff, it's hard to pick personal favorites. Really, content is king, and the execution was a detail.

"9" is stunning, and a CGI film that turned Tim Burton's head to get a greenlight giving director Shane Acker the chance to turn his creation into a feature film -- with Burton. Seriously, an encouraging Biz story for everybody.

Don Hertzfeldt's "everything will be ok" is funny and poingant and just wonderfully ... Hertzfeldt. And he was there tonight, and is a cool guy to hear answer audience questions.

I'd call "Overtime" a poignant CGI slant tribute to Jim Henson, and is pretty powerful stuff. I think there's som Edward Scissorhands influence in there, too.

Another CGI offering, "No Room for Gerold", just cracked me up for the mundane roommate / relationship squabble -- except it's between a hippopotamus, a crocodile, a rhinoceros, and a wildebeast. Or maybe it's an African antelope.

And "Guide Dog" from Bill Plympton? Still freaking brilliant from when he first hooked me years ago on MTV. And he's getting better and better.

And "Game Over" scratched a video game itch, and "Eaux Forte" reminds me of something I saw animated in a downtown Tokyo setting, but I can't remember what that was.

Good stuff throughout, and clips are available on The Animation Show 3 Website, so check them out.

Labels: animation, events, festivals, inspiration, voice acting

Share:
|
|
| TinyUrl | Twitter

Contribute to | Review
Saturday, March 03, 2007
STAPLE! 2007 recap ...
STAPLE! After party is going on now!

Saturday 9pm - late: The fun continues into the night at the STAPLE! after-party — Fistful of Live Art! Head downtown to Club Deville at 900 Red River for live art by Jim Mahfood, Dave Crosland and the first ever Live Art Battle Royale
between local Austin Living Artists and members of the San Antonio Artslam Crew! Music will be provided by 3Deep and admission is FREE!
(I may update this post later with scans, if I decide that helps and doesn't hurt the independents I'm trying to support.)

I went to STAPLE! The Independent Media Expo today, as a sort of unofficial kickoff for my month o' insanity. I'm glad I did.

I went to the original STAPLE! in 2005, and just realized a missed last year's show because of Oscar and Independent Spirit Award parties. So, for those folks I told today I've been coming to STAPLE! since it started, I, uh, haven't been.

To summarize, I go to STAPLE! because (A) I'm a comic book junkie, (B) I like to support independent artists (comic or otherwise), (C) I enjoy meeting and building new relationships with like-minded creative folks, and (D) I'm looking for additional voice work with the kinds of people with whom I'd like to work, doing the kinds of projects on which I'd like to work. Oh, and (E) to pick up free swag; which turned out to be a miserable failure today. But I did buy a bunch of awesome stuff (which goes back to (A) and (B); and feeds into (C); and possibly buys people for (D); who knows).

First stop: Independent Animation panel

The expo started at 10 a.m., but I decided to wait to start the show with the 1 p.m. Independent Animation panel -- which rocked.

The panel consisted of Aaron Romo of Squirrelworks (dude's bio seems to be down), Evan Cagle (whose personal site also seems to be down, but I've linked to the AnimWatch interview with him), and Lance "Fever" Myers (whose Website is up! Whoot!).

(There was a fourth guy on the panel, but I got there late and missed his introduction, plus he said nothing for the 1.5 hours.)

Cagle and Myers both worked on A Scanner Darkly in Austin, and I met two or three other guys throughout the day who did the same.

I saw clips of everyone's stuff (including Cagle's "secret animated project that few have seen"), asked questions, and got some insight into the different tools and methodologies being used by these top-notch creative folks.

(As an aside, Flash is wicked underused; and did Adobe buy everyone I used to use?)

Cagle's trailers for "Honey" and his secret project (I'm not sure the title's public, so I won't slip it here) were amazingly polished ("Honey" almost gave me a Grave of the Fireflies vibe, and superSecretRoboActionAdventureProjectGo! was space-opera stunning (in one place hitting me almost with a mythic feel from an anime that's currently escaping me).

Romo's stuff is great, and aside from his mad animator skillz, he almost stole the show with just his humor and having fun, to which the stick-in-the-mud audience didn't laugh enough (except me, which irritated the large gentleman sitting next to me, but he left early; I think to shower).

Myers's stuff I found fascinating in a (polished) Adult Swim kind of way. Be sure to check his entries out on the Super Deluxe Website and vote for his stuff (and, if you're like me, expect to spend a loooot of time on the site). I also got to see "Subsidized Fate" in its entirety.

When I look at Myers's site (especially things like his storyboard-to-render comparisons, I feel very silly with my stick figure storyboards for my own "Project X". Not that I'll stop.

Then I got to hang out and chat briefly each with Romo, Cagle, and Myers (sounds like a law firm). I talked longest to Myers in particular, because I knew at least a half dozen people credited in his films.

Touring the expo:

(I'm going to miss someone, so I apologize in advance.)

While 2005 was a good experience for me, this year had far fewer, "I-don't-belong-here, I'm-not-one-of-them" kinds of moments. I also was only guilted into buying one piece of crap, and all the other stuff I bought is stuff I genuinely want to check out.

First, thanks to Austin Books & Comics for sponsoring, and congrats to the new Rogues Gallery Comics and Games (what was Dragon's Lair Round Rock) -- that's exciting stuff.

Then, it was a quick run past the United Fanzine Organization's table (I met Jason DeGroot years ago, and he just keeps on keeping on), picked up a ton of sampler stuff, and got a great Captain America sketch (just for me) from Vo, who used to do comics, and doesn't anymore, but should.

(And Captain America rocks, so Schnee can just shove it.)

I met artist Brock Rizy, and bought his previous Emily Edison comic. Rizy's stuff looks stylized and polished, and I like the premise of the upcoming iBIKE_GANG!, which is going to blend animation and live action this fall (a la Who Framed Roger Rabbit). Sure, they say they've already cast everyone, but they still got a copy of my demo.

I met writer/artist Rob Osborne, mainly because the first page of his sketch book is of WWII Captain America (yeah, there's a theme; deal with it). But I ended up hanging around to talk to Rob because he's ridiculously engaging -- great listener, personable, neat guy, and talented. And I bought his sketch book. Then I hung out and off from the table to watch him talk with folks. Good vibe.

Then it was off to talk (probably longer than they wanted) to Chris Moujaes, Leila Moujaes, and Aaron Romo (again) over at SquirrelWorks. I met them a couple of years ago, have been a fan since, and wanted to pick up recent copies of their stuff. They rewarded me with some slick sketches. They're opening a new studio (congrats!) and are great, pleasant folks with whom to chat.

I picked up some stuff from Kirk Chavarria, (I dig the look of Sprocket!!), including a marketing gimmick he had that I really like. It's like something I do, but in a different way; a way I told him I might steal.

Finally, I met Paul Adam, whose super-detailed, high production quality work screamed "Concept Artist" before I even looked at his business card. I picked up his sketch book, and he generously drafted a nice, serious, Captain America pencil sketch.

Those are the highlights (which makes it worse for anyone I missed, I know), and a great way to spend a quick Saturday afternoon. I made sure to thank the organizers before I bailed

I may write about the different things I read from the expo on my "I'm Reading" blog.

Though the after party started a few minutes ago (and is free), I'm not going.

I'm just now building relationships with people in the comic book industry, so for me to go to the party would be that relationship without sincerity networking that I gave up years ago (because I realized I was getting too good at it).

But if you get this on Saturday night, you can head downtown for the "9 'til late" party (see details at the top of this post).

Labels: acting, biz, comic books, events, inspiration, voice acting

Share:
|
|
| TinyUrl | Twitter

Contribute to | Review
March is going to rock/suck ... join me ...

Every year, March is one of my biggest months, and this year, it's going to be a lion.

Here are some of the big events -- try to catch up with me at one or more of them.

STAPLE! The Independent Media Expo:
(March 03)

I'm starting today with STAPLE! The Independent Media Expo.

I'm a comic book guy, really enjoy the freedom and gutsiness of the independents, and am blessed with meeting new people at the event each year.

And this year, an animation panel should prove pretty insightful.

Plus, there are more than 60 exhibitors (many of whom I've met over the years), and the chance to check out some top-notch ongoing talent not normally known the mainstream.

UPDATED: Read my lengthy initial summary here.

Game Developers Conference:
(March 05-09)

No, I'm not going this year, but GDC is a big deal for me each year, both because of my video game propensity, and my voice acting.

This year looks to be a big year, with the now-gen console battle in full swing, and no E3 for developers and publishers to make big announcements. I suspect I'll be blogging a lot.

south by southwest:
(March 09-18)

I'll be doing all three parts of SXSW this year. While I'll be doing the Music Festival for fun, I'll be doing the Interactive and Film Festivals for work -- with the former being a combination of more video game interests and testing the employment waters, and the latter being a combination of work and supporting fellow Biz folks I know.

UPDATED: I forgot to mention the ScreenBurn Festival happening in parallel with SXSW Interactive. ScreenBurn events are March 10-13 and require SXSW Interactive registration, but the ScreenBurn Arcade events (March 10 and 11) are free.

VOICE 2007 Conference:
(March 27-31)

This one's a hopeful maybe (and if I don't go, I solidly lay blame on BigHugeCorp).

VOICE is the big international voice over related conference, and I've got a lot of folks I know (including some past coaches) going this year. We'll see if I can get this one to fit into my March.

So, crazy month. Good crazy. Come be crazy with me.

It's not called being a "working actor" for nothing....

Labels: acting, biz, business, comic books, events, festivals, other actors, toy job, video games, voice acting

Share:
|
|
| TinyUrl | Twitter

Contribute to | Review